I don't typically get much done in the house in the summertime. I have a list of projects a mile long, but we have a pool now and that seems to take priority over everything else.
Part of the reason I haven't started a new project is that I'm never sure where to start. Do I do the entryway, the front room, the dining room... You see when the list is long, I get overwhelmed and sort of stall out. The hubs and I talked and decided on the dining room. The main reason we decided on the dining room, is that it is a contained space. See sometimes, when I do projects, I don't finish one before starting another one, and that drives my husband crazy.
So, here is the Dining Room when we moved in:
See the lovely wallpaper? Eveyone that comes over tells me how much they love the birds and they would keep them...well I hate them and they are going bah-bye...
Don't get me wrong, I'm quite sure that in 1965 this was top of the line wallpaper. It has a metallic sheen and is super thick, but to me it just screams 1965...and I just can't keep it.
I don't know if I've said anything about this before, but see the glass in the built-in. It's gold, as is every light fixture, and glass panel in this house. If you didn't know better you would think everyone who comes over is suffering from jaundice.
This was after we moved in. Apparently that weird little shelf on the wall was added, because it used to be a pass through from the kitchen to the dining room. Right behind that panel, is the stove top...kind of random, but the previous homeowner said that they fried so much in the 60s the carpet started to get discolored and I think the wallpaper must have suffered too, because when I started to pull it down, I found that there were two layers of the SAME EXACT PAPER. Who does that?
So here is my to-do list:
1. Remove wallpaper, and patch walls.
2. Remove the built-in shelves and sheetrock over the hole.
3. Replace the gold glass in the built-in with some sort of clear pebbled glass and paint the built in.
4. Pait all woodwork and trim BM Chantilly Lace (White), because that is the color of the paneling and trim in the hallway, and will probably be the color of all of the paneling and trim in the whole house.
5. Find bold fabric and make curtains.
6. Replace light fixture with something more modern.
7. Replace flooring and add rug.
So as for the curtains, I have been searching high and low for a bold fabric with a large pattern. This is a tricky task, because it's hard to find and if you do it's like $80/yard. I am a fan of the
DIY Showoff
, and she showed the fabric below and I think I've fallen in love.
It meets several of the requirements that I am wanting.
1. I want something bold and colorful.
2. I want some of the color to mirror the color that I paint the built in.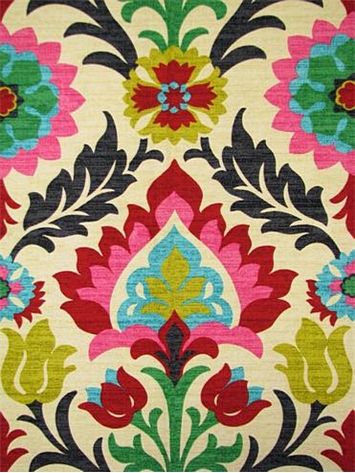 Waverly Santa Maria Desert Flower - $19.95 a yard.
See I have been wanting to paint the built-in either a weathered green or a weathered turquoise.
or

I also want to:

Add modern lighting:

Tear out carpet, and possibly paint subfloor (until we can afford to all of the floors) and add rug:
I also need to come up with a wall color. So, I guess I need to get a swatch of the fabric and see what might look best.
What do you think? I welcome your opinion (if it's nice)!!
If you want to see the finished project, become a follower and follow along!
I'm linking up:
The DIY Project Parade at The DIY Showoff
Weekend Wrap Up at Colours Dekor
Tuesday To Do at The Blackberry Vine
C.R.A.F.T.
Keeping It Simple
CraftOManiac Monday at CraftOManiac
Pink Hippo Party at Pinkapotamus
Mop It Up Mondays at I Should Be Mopping The Floor
Tip Me Tuesday at Tip Junkie